Metal Detecting Pirate Treasure In Downeast Maine
Metal Detecting Pirate Treasure In Downeast Maine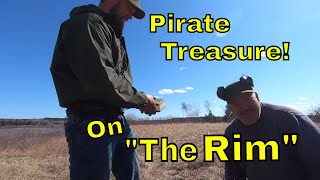 While metal detecting a deserted peninsula that contained many old cellar holes, Thor discovers a very old Spanish hammered coin that dates back to the 1500-1600's and was likely part of a pirate treasure haul. This area on the coast is well documented to have harbored many pirates and their ships during the golden age of piracy. It is rumored that Sam Bellamy himself had buried and lost one such treasure haul in this general vicinity. We also find many more interesting artifacts.
zz
Follow the ChiggsArmy!
My Patreon: https://www.patreon.com/aquachigger
Instagram: https://www.instagram.com/aquachigger/
Facebook: https://www.facebook.com/chiggsarmy/
Twitter: https://twitter.com/BeauOuimette
#metaldetectingonland #chiggsarmy #Aquachigger
About Aquachigger:
Metal detecting, treasure, history, coins, river treasure, adventure, nature, animals and MOAR! That is what my channel is about. I enjoy caving, SCUBA diving and flying my powered paraglider. I foster sick and injured pets. My channel is family friendly. My videos are meant to be fun, educational and informative.
Affiliate links to see and purchase the gear I use:
General Gear: http://bit.ly/MetalDetectorsAndMOAR
T-Shirts: https://www.bonfire.com/store/aquachigger/
Garrett Metal Detectors: http://bit.ly/ChiggsGarrettDetectors
Metal Detecting Pirate Treasure In Downeast Maine
https://www.youtube.com/watch?v=0-WNg14WWD
Aquachigger
https://www.youtube.com/aquachigger