Metal Detecting trip to Vermont leads to find of a lifetime • Super rare GW Era Patriotic Button
Metal Detecting trip to Vermont leads to find of a lifetime • Super rare GW Era Patriotic Button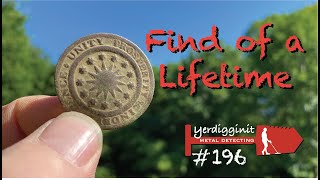 This hobby never ceases to amaze… I am so thrilled that Royal talked me into taking a 4 hour drive with him away from Syracuse to the beautiful mountains of Vermont for a day of detecting. We were hoping for something different, and old, but didn't expect to unearth such an important piece of history as Royal scored the find of a lifetime … a superb example of a piece that less than 10 are known to exist, this should be in a museum. Real treasure. If you enjoy, please consider subscribing and hitting the notification bell. God bless and happy hunting my friends.
NEW! Join our Facebook group: https://www.facebook.com/groups/514379006246507
I'm also on Instagram as "yerdigginit metal detecting": https://www.instagram.com/yerdigginit_metal_detecting/
My eBay – For yerdigginit Shirts, Coil Ear Stiffeners …and more: https://www.ebay.com/sch/yerdigginit_deals/m.html?_nkw=&_armrs=1&_ipg=&_from=
Email: yerdonhaus@gmail.com
Mail call:
Yerdigginit
212 Durston Ave
Syracuse, NY 13203
Channel donations: https://paypal.me/yerdigginit?locale.x=en_US
Syracuse New Times article featuring me: https://www.syracusenewtimes.com/the-hole-truth/
Chris Altmann's book – From The Ground Up book for purchase: https://www.fromthegroundup.shop/
Dr Jerry's Coin Squeezins: http://jerryrussell.com/shop/dr-jerrys-coin-squeezins/
Filmed in & around Central New York.
Detector used:
Minelab Equinox 800
Pinpointer used:
Garrett Pro Pointer AT
Shovel used:
Sampson T-Handle
Other:
Detect-Ed Red Belly Carbon Fiber Shaft on the Equinox