New Evidence of Montezuma's Golden Treasure | Cities of the Underworld (Season 1)
New Evidence of Montezuma's Golden Treasure | Cities of the Underworld (Season 1)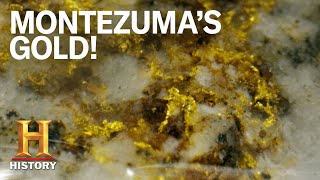 The team searches for the most famous treasure in history – Montezuma's gold, which could be hidden in the Superstition Mountains, in this clip from Season 1, "The Lost Aztec Colony."
Watch all new episodes of Cities of the Underworld, returning soon, and stay up to date on all of your favorite The HISTORY Channel shows at history.com/schedule.
#CitiesoftheUnderworld
Subscribe for more from Cities of the Underworld and other great The HISTORY Channel shows:
http://histv.co/SubscribeHistoryYT
Check out exclusive HISTORY content:
History Newsletter – https://histv.co/newsletter
Website – https://histv.co/History
Facebook – https://histv.co/Facebook
Twitter – https://histv.co/Twitter
HISTORY® is the leading destination for award-winning original series and specials that connect viewers with history in an informative, immersive, and entertaining manner across all platforms. The network's all-original programming slate features a roster of hit series, premium documentaries, and scripted event programming.