NOWHERE BUT TEXAS: SEARCHING FOR JEAN LAFITTE'S TREASURE ON GALVESTON ISLAND
NOWHERE BUT TEXAS: SEARCHING FOR JEAN LAFITTE'S TREASURE ON GALVESTON ISLAND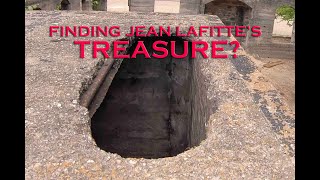 NOWHERE BUT TEXAS: SEARCHING FOR JEAN LAFITTE'S TREASURE ON GALVESTON ISLAND
Jean Lafitte was born in 1780 and died in 1823. He was a French pirate and privateer. Lafitte lived on Galveston island in the state of Texas, USA – from 1817 to 1821.
In late 1815, Lafitte agreed to act as spy for Spain, which was embroiled in the Mexican War of Independence. Jean Lafitte was sent to the Gulf of Mexico and Galveston Island where he took command of the island – with an iron fist. Lafitte utilized Galveston Island as his private smuggling base.
At this time, Galveston island was largely uninhabited, except by Native American Karankawa indians. Lafitte fought many bloody battles with these Karankawas. As background, the Karankawa were an Indigenous people concentrated in southern Texas along the coast of the Gulf of Mexico; they consisted of several independent seasonal nomadic groups who shared the same language and much of the same culture.
Lafitte named his island Campeche, after a Mexican outpost further south along the Gulf Coast of Mexico.
In less than one year, Lafitte's small settlement grew to nearly 200 men and several women. Many buildings were built during this period. His headquarters was a two-story building which became known as Maison Rouge – so called as it was painted red.
Around 1820, Lafitte reportedly married Madeline Regaud. She had his only known son, Jean Pierre Lafitte.
In 1821, the US government drove Lafitte from the island. It is widely believed that Lafitte buried his treasure on Galveston before he left – and this video is about my search at three likely treasure sites. Please note that some historians believe Lafitte had no significant treasure as he left Galveston or that he took his treasure with him to Louisiana.