Old Symbols Reveal The Treasure Location
Old Symbols Reveal The Treasure Location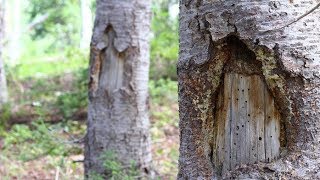 If you want more information, go to https://www.unchartedexpedition.com.
Steve Shaffer, Timothy Draper, and the Treasures in America's team heads out to explain and examine some old Spanish tree symbols in the Uinta Mountains in Northern Utah. Some of these symbols are much older than others and they were carved from other treasure hunters and Spaniards in the earlier times. The newer ones were curved by others because the originals were on dying trees. That way the secrets and clues can remain around longer to pinpoint the buried caches and mines that have been hidden for over 300 years.
Steve and Tim have been working very closely in this area for the last few years because there are still treasures, mines, and old structures still to be found. We wanted to go over the symbols that we knew of so we understand what they are telling us. We estimate that there are still millions of dollars of gold and silver on this mountain. By using the Spanish maps and waybills we have from the 1700s and 1800s, we feel that we are closing in on some very big and historical discoveries.
Steve has many, many years of reading Spanish Symbols and he is passing that knowledge along to us so we can further the search. The treasures in America's team spend serval nights on the mountain, exploring and researching the clues. We get new information all the time and that is helping us in this investigation.
Please like and subscribe to our page to keep up to date on the progress of this site and hundreds of other ones in America. Be safe out there and find your adventure.
https://www.unchartedexpedition.com
https://www.facebook.com/TreasuresInAmerica/?ref=bookmarks
https://www.facebook.com/groups/TreasuresInUtah/
https://www.facebook.com/steve.shaffer.3367