Part 1 – Gold Prospecting Rules – 2022 Washington GOLD & FISH Pamphlet. Without Timing Restrictions
Part 1 – Gold Prospecting Rules – 2022 Washington GOLD & FISH Pamphlet. Without Timing Restrictions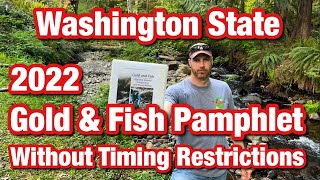 ***Important*** Check comment section for updated rules and regulations. I will update when new info is given and this will be a great place to stay up to date! Thanks
6 June 2022 – Update – DNR entrusted lands (for example: Waddell Creek) are not allowing mineral prospecting of any kind. I called a DNR manager to confirm and this is legit. They review these rules and if it changes, I will update here. This change happened in the recent pass and was due to Salmon runs. Prospecting was allowed in the past but recently has been shut down. More to come. Thanks
In the video I'll explain the 2022 Washington State GOLD and FISH Pamphlet, specifically the section on pages 12 thru 13 explaining Mineral Prospecting Without Timing Restrictions.
So, if you're a current resident that needs a refresher or a visitor from out of state wanting to test the waters here in Washington, this is the one video you should probably check out.
Stay tuned for Part 2 where I'll explain the rest of this publication dealing with Timing Restrictions,
Let me know what you think… Enjoy!
Audio – 'Darkfall' by Karl Casey @ White Bat Audio. Dude is FIRE!