RELIC HUNTING in Vermont | New England's LOST HISTORY | Metal Detecting
RELIC HUNTING in Vermont | New England's LOST HISTORY | Metal Detecting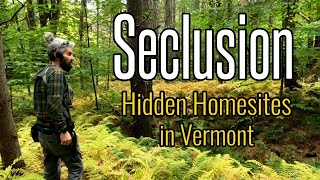 It's the first week of fall here in New England and Mother Nature is ahead of schedule. Under the painted canopy of Vermont, Kendall and I venture deep into the forgotten land once home to Early American Settlers.
Cooler weather, fog and dangers of the forest won't keep us from hunting for relics and treasures the past left behind.
Join us as we make our way into the unknown and give you a first hand look at what it's like metal detecting land that time forgot.
Thank you for watching. Please SUBSCRIBE and click the notification BELL so you don't miss another episode!
To help me and my channel, please consider the following LINKS for all your future metal detecting and treasure hunting adventure needs!
Kellyco Metal Detectors
👉 https://www.kellycodetectors.com/
FREE SHIPPING ON ALL PRODUCTS ORDERED WHEN CHECKING OUT!
Use PROMO CODE: happyhunting
RECCOMENDATION:
Andres Pencils Complete Relic Restoration Set: https://shrsl.com/32gal
DIRECT LINKS to Equipment and products used in my videos:
Metal Detectors:
Minelab Equinox 800 Metal Detector: https://shrsl.com/32g5g
Nokta Makro – Simplex: https://shrsl.com/356fs
Pinpointers:
Garrett Pinpointer: https://shrsl.com/32g5i
F-Pulse: https://shrsl.com/356gh
Shovels:
Radius Root Slayer: https://shrsl.com/32g5h
Lesche T Handle Shovel: https://shrsl.com/356g9
Miscellaneous:
Garrett Finds Pouch: https://shrsl.com/356gj
Garrett Finds Box: https://shrsl.com/36i5b
JOIN All Metal Militia on Facebook: https://www.facebook.com/groups/AllMetalMilitia
SEE OUR NEW TV SHOW HERE
AMM YouTube: https://www.youtube.com/channel/UCT22mRQ_QQ0LfHrZy22IaaA
More to come!
Kendall's YouTube:
Instagram: @kendigg.vt
YouTube: https://www.youtube.com/channel/UC1wipD571futBZ8cAcK2FsQ
Need a lucky digging shirt or just want to help support for my channel?
DETECTED OUTDOORS STORE:
Men, Women and Kids shirts, sweatshirts, stickers and more!
https://detected-outdoors.creator-spring.com/
For more digging finds and unseen content, FOLLOW ME!
Instagram: @DetectEdOutdoor3
Facebook: DetectEd Outdoors
Stay Safe & Happy Hunting!
#MetalDetecting #Vermont #NewEngland