Rockhounding & Fossil Hunting in Narragansett, Rhode Island
Rockhounding & Fossil Hunting in Narragansett, Rhode Island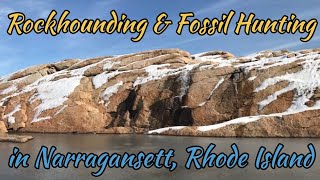 #rocks #fossils #adventure
EMAIL: ThePatriotStacker@gmail.com
Instagram: @the_patriot_stacker
Support the channel:
https://www.paypal.com/paypalme/patriotstacker
I hope you enjoy today's video!
Please subscribe to the channel if you enjoy videos all about silver stacking, coin collecting, precious metals, outdoor adventures, metal detecting, treasure hunting and much more!
And please hit the like button and ring the notification bell to see when my next video comes out!
Disclaimer: I am not a financial advisor. All my videos are for entertainment purposes only. Please make your own judgment and decisions when considering investing in precious metals.
🇺🇸🇺🇸🇺🇸🇺🇸🇺🇸🇺🇸🇺🇸🇺🇸🇺🇸🇺🇸🇺🇸🇺🇸🇺🇸🇺🇸🇺🇸🇺🇸🇺🇸🇺🇸🇺🇸
#silverstacking #goldstack
#junksilver #pouredsilver #silverpour #coins #silver #gold #numismatic #silverbar #bullion #coincollecting #goldnugget #treasure #rhodeisland #narragansett #rockhound #gems #crystals #hunting