Scariest location in utah contains a huge spanish treasure
Scariest location in utah contains a huge spanish treasure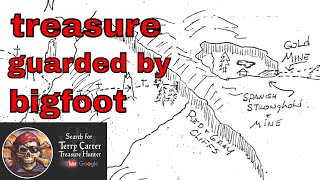 This is the scariest place in the Uinta Mountains, it's said to be guarded by giant birds, bigfoot and the Ute Indians. It is also said that this area contains a Spanish gold mine with a huge Spanish treasure of gold bars inside. Military war veterans have gone into this area telling of the strange happenings and said that they will never go back. Could this be another skinwalker ranch or blind frog ranch anomaly area. Dan Lowe shares with us the stories that he has heard from multiple sources about this area, the creatures that live there and the gold that was seen and the people that won't go back.
Check out Dan's blog and books at:
http://www.tuscoro.com
http://www.tuscoro.com/p/books.html
Subscribe to my channel – https://goo.gl/nbxyyt
don't forget to hit the like button and bell notification.
ATTENTION, ATTENTION, ATTENTION, Meet your fellow treasure hunters at the Utah Treasure Hunters Rendezvous. Hear stories you've never heard before, meet people you have been wanting to talk to. Network with others that have a piece of the puzzle or equipment you have been missing to get your project to the next level. This event will be held at the Altamont city park just down the road from Moon Lake in Utah on August 6-7-2021 for more info check out the moon lake lodge website at:

under the events and look for the gathering.
This area is a hot spot for the Lost Rhoades mine and Spanish Treasure, bigfoot sightings etc. Skinwalker Ranch and Blind Frog Ranch are close by so who knows what you could see.
Treasure stories, Spanish gold, lost mines, buried treasure, lost Rhoades mine, UFO's, bigfoot, skinwalker ranch, blind frog ranch, lake monsters, ghosts and more. these are the stories you want to hear and don't want to miss. These things are in this area where we will be holding this event on Aug 6th & 7th – 2021. Come check it out and learn the history and lores of the area's at the gathering. Learn more about the event here:
https://www.facebook.com/morganpowwow

If you're looking for a new metal detector or equipment click this link and Give Kellyco a try. They give me a little kickback to help support my channel plus the Kellyco girls really know the different detectors and how to use them. Give them a try, Im sure you'll be pleased.
http://shrsl.com/1fu3o-1ueu-s8em
If you're going to buy something off of Amazon help support my channel and buy it from this link. It doesn't cost you any more but amazon does give me a little kick back, thanks
https://www.amazon.com/shop/terrycarter?ref=ac_inf_hm_vp
Terry Carter
51 W. center suit 304
Orem, Utah 84057
huntershdt@gmail.com
Visit our web pages and forum
http://www.ancientlosttreasures.com/forum/
http://www.ancienthistoricalresearchfoundation.com
http://www.mysteryglyphs.com
Also look us up on face book at:
https://www.facebook.com/groups/723774731015622/
To learn more about the Nephilim Giants click this link
https://www.youtube.com/playlist?list=PLjoNGaL8McEMpXVdtMYAqTUHW6of0Ojbe
To learn more about the treasures of the Superstition Mountains and the Lost Dutchman gold click this link
To learn about the Egyptians in the Grand Canyon and other areas click this link
to learn about the outlaws of the old west click this link
To learn about the Mystery Glyphs click this link
Clues to the rich lost Woolsey mine – https://www.youtube.com/watch?v=IiMgYBIwyDk
Clues to the Spanish treasures on the Henry Mountains –

Clues to two ancient church treasures – https://www.youtube.com/watch?v=xz3OZNfddQ4