Secret Miner's Cabin & Mines In The Sierra Nevada – Part 1
Secret Miner's Cabin & Mines In The Sierra Nevada – Part 1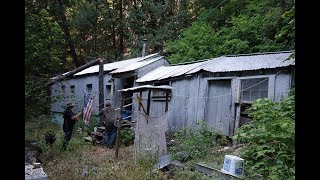 Probably less than a dozen people know about the historic miner's cabin hidden away on this mining claim – and even fewer still know about the abundance of gold mines found here… It remains a secret because the people that do know where this is remain tight-lipped about it and this cabin and mines are located in an absolute black hole on topographic and other maps. There is simply nothing marked anywhere near here. With the contractors for the Forest Service, BLM, Abandoned Mine Lands (AML) programs, et al working overtime (with taxpayer money) to get all of these historic mines erased, it is very nice to be introduced to some gold mines that are not (currently) in danger of being permanently closed. It is a shame that we have to wallow in such secrecy simply to protect a historically significant site from the very entities that should be preserving it, but such is the upside down world we live in.
The two adits featured in this video appear to be quite old. I was able to find a couple of references to the mines consolidated on this claim in mining journals dating back to the turn of the last century and they were described as already having been worked for a while at that time. So, initial work here probably dates back to around the time of California's "Gold Rush" era.
The earliest gold miners in California were placer miners. However, when the easy pickings from the surface were worked out, they became lode miners and headed underground to start chasing the veins where the gold in the creeks originated from (some underground miners also chased the rich placer left behind by ancient river channels that were buried millions of years ago). The little hole by the creek under the huge boulder would have been referred to as a "coyote hole" by the miners of the time. These were in abundance along the creeks and rivers of California in the early days as the miners pursued gold flakes and nuggets back into the rocks and gravel lining the waterways. So, it seems likely that the small adit we visited first would have been the one developed initially and then the larger adit punching into the hard rock would have come along later.
In further support of the idea that these mines are older rather than newer is that, although it may possibly have been there at one point, there was no sign of rail at the mines we visited. The claim owner also stated that he has never seen any sign of rail here either.
It is not difficult to imagine a swarm of miners crawling all over these canyon walls like ants during the "Gold Rush" era, churning up the creeks and digging out coyote holes. This initial surge of miners, however, would have been followed by a more patient, more sophisticated group of miners that had an eye on heading underground. At the second adit shown in this video, for example, you could have had something like a father and son team or two brothers slowly working away at that lode mine for years, chasing those quartz veins and hauling load after load of ore and waste rock out in wheelbarrows.
I'm giving more of a general feel for the area with these videos rather than showing every single bit of mining history present as both sides of this canyon are covered in mines and the remains of mining equipment. We'll see more of that in the next video.
*****
All of these videos are uploaded in HD, so adjust those settings to ramp up the quality! It really does make a difference.
You can see the gear that I use for mine exploring here: https://bit.ly/2wqcBDD
You can click here for my full playlist of abandoned mines that I have explored: https://goo.gl/TEKq9L
Thanks for watching!
*****
Growing up in California's "Gold Rush Country" made it easy to take all of the history around us for granted. However, abandoned mine sites have a lot working against them – nature, vandals, scrappers and various government agencies… The old prospectors and miners that used to roam our lonely mountains and toil away deep underground are disappearing quickly as well.
These losses finally caught our attention and we felt compelled to make an effort to document as many of the ghost towns and abandoned mines that we could before that colorful niche of our history is gone forever. But, you know what? We enjoy doing it! This is exploring history firsthand – bushwhacking down steep canyons and over rough mountains, figuring out the techniques the miners used and the equipment they worked with, seeing the innovations they came up with, discovering lost mines that no one has been in for a century, wandering through ghost towns where the only sound is the wind… These journeys allow a feeling of connection to a time when the world was a very different place. And I'd love to think that in some small way we are paying tribute to those hardy miners that worked these mines before we were even born.
#ExploringAbandonedMines
#MineExploring
#AbandonedMines
#UndergroundMineExploring