Small Historic Town's Fascinating Treasure | Alto Pass Illinois History and Geology
Small Historic Town's Fascinating Treasure | Alto Pass Illinois History and Geology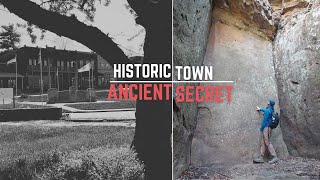 Located in the Shawnee Hills of Illinois near the foothills of the Ozarks is a former railroad town called Alto Pass. This scenic town boasts one of the best views in Illinois at a scenic viewpoint that looks out over Bald Knob Mountain in the Shawnee National Forest.
The 111-foot Bald Knob Cross is the main attraction in Alto, along with the very first Southern Illinois Vineyard. Rendleman Orchards an historic farm is, also, nearby these former 1870's railroad tracks.
The railroad is now a hiking path, this is popular with climbers and nature lovers.