Spanish Treasure found in Arizona—the full story
Spanish Treasure found in Arizona—the full story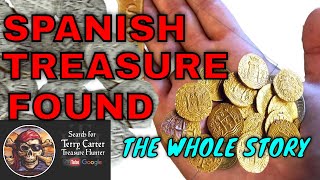 The Arizona treasure hunter found a Spanish treasure from a Spanish, Apache massacre site in the rugged mountain in Arizona. Cody Drake only planned on spending five days in this area but ended up spending over fifty days in the wilderness because of all the Spanish treasure and artifacts he was finding. In this video, Spanish Treasure found in Arizona—the full story cody shares the full story with us. don't forget to check out Cody's social media pages for a lot of great information
https://www.facebook.com/TheArizonaTreasureHunter
https://www.youtube.com/@thearizonatreasurehunter2313
Subscribe to my youtube channel
https://www.youtube.com/@TerryCartertreasurehunter
don't forget to hit the like button and bell notification.
LOVE GOLD & SILVER???
Want more of it???
Want to protect yourself against inflation caused by poor government decisions?
Want to learn how to make a residual income powered by gold and silver?
Watch these videos, my phone number is at the bottom of the video's page,
then call me.
I want to tell you my story and share what I have been doing with the Utah treasure hunters and how you can get involved in some financial life-altering changes.
Thanks, Terry Carter
https://www.mycapturepage.com/cp29.php?user=terrycarter
If you're looking for a new metal detector or equipment click this link and Give Kellyco a try. They give me a little kickback to help support my channel plus the Kellyco girls really know the different detectors and how to use them. Give them a try, I'm sure you'll be pleased.
http://shrsl.com/1fu3o-1ueu-s8em
If you're going to buy something off of Amazon help support my channel and buy it from this link. It doesn't cost you any more but amazon does give me a little kick back, thanks
https://www.amazon.com/shop/terrycarter?ref=ac_inf_hm_vp
Visit our web pages and forum
ANCIENT HISTORICAL RESEARCH FOUNDATION
https://ahrf.netlify.app
http://www.mysteryglyphs.com
Also look us up on facebook at:
https://www.facebook.com/groups/723774731015622/
To learn more about the Nephilim Giants click this link
https://www.youtube.com/playlist?list=PLjoNGaL8McEMpXVdtMYAqTUHW6of0Ojbe
To learn more about the treasures of the Superstition Mountains and the Lost Dutchman gold click this link
To learn about the Egyptians in the Grand Canyon and other areas click this link
to learn about the outlaws of the old west click this link
To learn about the Mystery Glyphs click this link
Clues to the rich lost Woolsey mine – https://www.youtube.com/watch?v=IiMgYBIwyDk
Clues to the Spanish treasures on the Henry Mountains –
https://www.youtube.com/watch?v=0M9iIiBePdI