Strange Creature Swims in Sealed West Virginia House Coal Mine Re-Opened After 90 Years of Non-Use
Strange Creature Swims in Sealed West Virginia House Coal Mine Re-Opened After 90 Years of Non-Use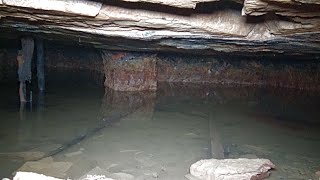 [jump to 6:54 to 7:10 of the video (bottom of screen) to see the strange creature in the sealed off mine, and close ups of the creature beginning at 8:40]
Two house coal mines located within 10 yards of each other on the right side of Middle Run in Guardian, Webster County, West Virginia were last used sometime prior to 1931. Several hours of excavation revealed the interior of these small mines. In the larger of the two house coal mines, a strange red-colored creature (about 16 inches long) can be seen swimming in the water on the floor of the mine. Is it a "waterdog"? This mine has been sealed off by collapse and mud for over half a century, leading one to wonder how this creature survives in the mine; how did it get in? what does it feed on?
UPDATE 3-13-2022: When I titled this video, I did not know what the creature was, particularly given its unusual length and because of its discovery in an apparently sealed up mine. After nearly 485 comments on this video, the majority consensus is that the creature is a type of salamander. Some call it a lizard, a hellbender, a muddog, a mudpuppy, a newt, a cave salamander, skink, etc., etc. etc. Some don't like the title and some don't like it that they watched 8-9 minutes just to see a salamander (even though from day one, I posted time links to the creature at the beginning of this video description to save you time). Look at any of the other 500 plus videos on this channel and you will see they are titled without any intent of deception, and there was no intent to mislead on this video as well. If you don't like it, click the dislike, quit watching it, and quit commenting because YouTube's algorithm will keep suggesting the video to others the longer you watch and the more you comment [ By the way, thanks for that! LOL]. I've posted all the comments except where commenters used excessive profane language and/or attacked other commenters or myself personally.