Strange Nevada Gold Mine In Incredible Setting
Strange Nevada Gold Mine In Incredible Setting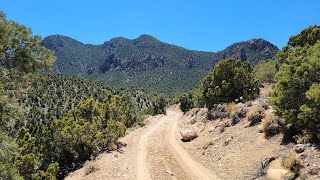 We put some serious abuse on a Jeep taking a "shortcut" in to this strange Nevada gold mine, but, whatever… It was for a good cause. Jeeps are notoriously unreliable anyway, right? So, no big loss. And a Jeep with some rather significant cosmetic damage to the exterior simply demonstrates that it was being used as it should be, right? To be fair, I've been in some interesting places with Jeeps, but my years of running with various insurgent groups and rebel armies in some of the worst places around the world has given me an unwavering faith in Toyota 4WDs.
So, the strange mine we have here – approximately half a mile of workings, two shafts at a depth of almost 400 feet (the distance from the ridgetop to the haulage adit level) and that open stope… The shafts and open stope (which may have started out as surface workings) on the top of the ridge were pursued first. And what the miners found was obviously good enough to lead them to construct the cyanide mill (a big investment even a century ago) and to drive that large adit in for haulage as well as to access the deeper ore bodies and the convenience of hauling the ore out and right into the top level of the mill. For those of you that are not as familiar with mining, gravity makes it much easier to drop ore and waste rock down rather than to haul it out. Thus, you'll see shafts often have a haulage adit connected to them to haul out the heavy material, stopes drop down to ore chutes, etc.
This abandoned mine is in a pretty remote area of Nevada, but what an incredible setting! I wish all of you could have been there in person to see the morning sun hitting those rocky cliffs, causing them to glow a brilliant red. I'm sure the miners never tired of that view. Really, I regret not thinking to pull the camera out to try and capture the sunrise because the scenery was amazing in every direction in that light.
By the way, in case it wasn't clear in the comment above, we spent the night on the waste rock pile of this mine. If you find yourself camping in the desert often, but you're not a mine explorer, you may not know this. However, it's hard to beat a waste rock pile at a mine for a great camping spot. You've got a nice flat area to park and set up your camp, the rock makes it safer to have a campfire, you've got cool air blowing out of the adit… If you camp next to one though, please don't fall down a mine shaft. Abandoned mines already have enough working against them. We don't need more fuel on the fire. Oh, and one of my friends consumed too much tequila while we were there and was in rough shape the next morning. Be careful of tequila as well…
*****
All of these videos are uploaded in HD, so I'd encourage you to adjust your settings to the highest quality if it is not done automatically.
You can see the gear that I use for mine exploring here: https://bit.ly/2wqcBDD
As well as a small gear update here: https://bit.ly/2p6Jip6
You can see the full TVR Exploring playlist of abandoned mines here: https://goo.gl/TEKq9L
Several kind viewers have asked about donating to help cover some of the many expenses associated with exploring these abandoned mines. Inspired by their generosity, I set up a Patreon account. So, if anyone would care to chip in, I'm under TVR Exploring on Patreon.
Thanks for watching!
*****
Growing up in California's "Gold Rush Country" made it easy to take all of the history around us for granted. However, abandoned mine sites have a lot working against them – nature, vandals, scrappers and various government agencies… The old prospectors and miners that used to roam our lonely mountains and toil away deep underground are disappearing quickly as well.
These losses finally caught our attention and we felt compelled to make an effort to document as many of the ghost towns and abandoned mines that we could before that colorful niche of our history is gone forever. But, you know what? We enjoy doing it! This is exploring history firsthand – bushwhacking down steep canyons and over rough mountains, figuring out the techniques the miners used and the equipment they worked with, seeing the innovations they came up with, discovering lost mines that no one has been in for a century, wandering through ghost towns where the only sound is the wind… These journeys allow a feeling of connection to a time when the world was a very different place. And I'd love to think that in some small way we are paying tribute to those hardy miners that worked these mines before we were even born.
So, yes, in short, we are adit addicts… I hope you'll join us on these adventures!
#ExploringAbandonedMines
#MineExploring
#AbandonedMines
#UndergroundMineExploring