Super Silver! Big Beach Treasure Found Using Metal Detector In New York City
Super Silver! Big Beach Treasure Found Using Metal Detector In New York City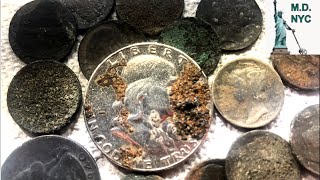 It was pouring silver! Everywhere I swept my metal detector, it beeped and it was silver. It was like a treasure hunters dream come true. Beach treasure everywhere on a hidden eroded New York City beach.
Tools I Use & Important Links
Use code NYC at http://kellyco.com at checkout and WATCH WHAT HAPPENS!
Merch Store: https://www.iratemetaldetectors.com/shop
CKG Sand Scoop (Amazon): https://amzn.to/2X4bxDm
CKG Sand Scoop (KellyCo): https://shrsl.com/2avs6
Minelab Equinox 600: https://shrsl.com/2araf
Garrett Pro-Pointer: https://shrsl.com/2z15w
Chapters:
0:00 The importance of beaten up coins
0:33 10 Rings In 2022 So Far
1:04 The Dry part of the beach
1:26 A look at a sloping beach filled with treasure
1:36 What tire tracks can mean
2:06 My limping Minelab Equinox 600
2:30 This Beach Is Loaded
2:40 What Green Coins Means
2:57 First silver coin
3:27 What fishing weights means
3:51 What thin objects like nails can mean
4:56 A steep slope with rocks on top
5:22 An extremely oxidized coin
5:32 Beach Bonanza continues
7:46 A 1936 Buffalo Nickel
9:48 A Grey Silver Quarter
10:13 Even more Silver!!!!
11:00 Super Silver Number 5
11:25 Behold! We have found a key!
12:30 A bizarre rectangle
13:17 Why I couldn't leave
13:39 More silver in the beach scoop!
14:27 The fishing weight that saved the day
14:44 A Super Silver High Tone In the 30's on the Minelab Equinox
15:07 Its a silver half dollar
17:25 A French coin found with my metal detector
18:05 Treasure everywhere! More silver!
19:13 Even more silver! Its everywhere!
19:44 A religious pendant
20:43 Silver wrap up
21:43 Benjamin Franklin Half Rap
Subscribe On YouTube: https://bit.ly/2HQCRPY
Facebook: http://facebook.com/metaldetectingnyc
Instagram: http://instragram.com/metaldetectingnyc
Hi, my name is Merrill Kazanjian. New York City is an amazing place to go metal detecting. We have lots of parks, colonial history and great beaches for beach detecting. I have gone to all five boroughs of New York City To Metal Detect and beyond. I also currently own 16 metal detectors. I want to have the best and I want to help you choose the best as well. Below I will showcase some of the playlists on this channel:
By Metal Detector:
Minelab Equinox Playlist: https://bit.ly/3bxUel2
White's Beach Hunter 300 Playlist: https://bit.ly/3l0TvMp
Nokta Makro Anfibio Multi Playlist: https://bit.ly/3kYX85H
Minelab Vanquish 540: https://bit.ly/3qvec4j
Garrett Ace Apex: https://bit.ly/30uQDhn
Nokta Makro Simplex: https://bit.ly/3eo9Idf
Minelab E-Trac: https://bit.ly/3vkbkLo
XP Deus: https://bit.ly/3bxndWl
Garrett AT Pro: https://bit.ly/3rzfVqy
Minelab Safari: https://bit.ly/3l0Wt3v
Garrett Ace 300: https://bit.ly/3ci5WiV
Minelab Soveriegn: (Coming Soon)
I have a playlist of metal detecting videos to teach metal detecting. The videos in the playlist below are specifically made to teach the skills and mindset to becoming a great metal detectorist.
Metal Detecting Tips & Tricks: https://bit.ly/3cefATT
I am a treasure hunter. So in addition to metal detecting, I go mudlarking at sites such as Dead Horse Bay. Think of mudlarking as metal detecting without a metal detector.
Dead Horse Bay: https://bit.ly/3rwZ73B
Mudlarking: https://bit.ly/3qygWhc
All Of My Metal Detecting Treasure Hunting Videos: https://bit.ly/2N0YpfR
All Of My Beach Metal Detecting Videos: https://bit.ly/3v7jTJf
All Of My Land/Park Metal Detecting Videos: https://tinyurl.com/c8mzyn9k
Playlist By New York City Borough:
Manhattan: https://bit.ly/3qu5WS5
Brooklyn: https://bit.ly/3v45hKN
The Bronx: https://bit.ly/3cg9Xo3
Queens: https://bit.ly/3l4aA8u
Staten Island: https://bit.ly/2POP6kl
Cleaning Metal Detecting/Mudlarking Finds:
Can We Clean It: https://bit.ly/3rKf3Qh
Cleaning Coins: https://bit.ly/33NRYl7
Other Playlists:
Metal Detecting Rap Videos: https://bit.ly/3epb1sz
Songs About Coins: https://bit.ly/3bvqQLT
Merrill's Thought & VLogs: https://bit.ly/3sZ5ehe
Rusty Notch (Country Metal Detecting Music): https://bit.ly/3epf4VN
Gold Mining: https://bit.ly/3t9z1UN
Magnet Fishing: https://bit.ly/38q1DRy
Metal Detector Comparisons: https://bit.ly/3t75UBA
Metal Detecting Live Streams: https://bit.ly/3kZ5E4F
Drawing Popular YouTube Metal Detectorists: https://bit.ly/3qDjWt2
Subscriber Sundays: https://bit.ly/3qxMzaE
Top 100 Metal Detecting Channels On YouTube: https://bit.ly/3qDksas