Terrifying Collection of Cursed Objects Hidden in Ohio | The UnXplained (Season 3)
Terrifying Collection of Cursed Objects Hidden in Ohio | The UnXplained (Season 3)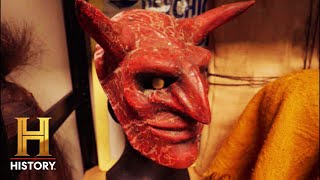 The Newkirks reveal their bizarre collection of cursed objects, in this clip from Season 3, "Uncanny Curses."
Watch all new episodes of The UnXplained, Fridays at 9/8c, and stay up to date on all of your favorite The HISTORY Channel shows at http://history.com/schedule.
#TheUnXplained
Subscribe for more from The UnXplained and other great The HISTORY Channel shows:
http://histv.co/SubscribeHistoryYT
Watch more The UnXplained on YouTube in this playlist:
https://histv.co/UnXplainedYT
Find out more about the show and watch full episodes on our site:
https://histv.co/unxplained
Check out exclusive The HISTORY Channel content:
History Newsletter – https://histv.co/newsletter
Website – https://histv.co/History
Facebook – https://histv.co/Facebook
Twitter – https://histv.co/Twitter
From the producers of Ancient Aliens and The Curse of Oak Island comes The UnXplained, a one-hour, non-fiction series that explores the world's most fascinating, strange and inexplicable mysteries. Hosted and executive produced by Golden Globe and Emmy Award-winning actor William Shatner (Star Trek, Boston Legal) each episode will feature compelling contributions from scientists, historians, witnesses and experiencers-each seeking to shed light on how the seemingly impossible actually can happen.
The HISTORY Channel® is the leading destination for award-winning original series and specials that connect viewers with history in an informative, immersive, and entertaining manner across all platforms. The network's all-original programming slate features a roster of hit series, premium documentaries, and scripted event programming.