Testing Gold Ore from Nevada Using a Jaw Crusher, Hammer Mill, & Shaker Table
Testing Gold Ore from Nevada Using a Jaw Crusher, Hammer Mill, & Shaker Table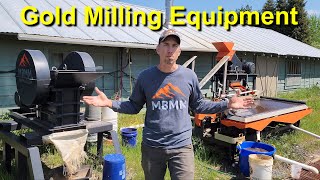 Join us on an exhilarating gold mining adventure as we take on the challenge of crushing a high-grade gold ore sample from Nevada using the state-of-the-art MBMM jaw crusher, hammer mill, and shaker table. In this captivating video, we put our equipment to the test to determine its efficiency in recovering the precious gold hidden within this rich ore. Will our meticulous process reveal a bountiful treasure trove of gold? Stay tuned until the end as we unveil the exciting results!
Our MBMM jaw crusher delivers exceptional crushing power, reducing the gold ore to a fine consistency. The hammer mill further pulverizes the material, ensuring optimal liberation of the gold particles. Finally, the shaker table's precision shaking action separates the valuable gold from the remaining material, resulting in high-grade concentrates.
Witness firsthand how our cutting-edge equipment transforms raw gold ore into a refined product, maximizing gold recovery and potential profits. This video serves as a valuable resource for both seasoned miners and enthusiastic prospectors, providing insights into effective gold extraction techniques and showcasing the capabilities of our top-quality MBMM machinery.
Experience the thrill of gold mining and the pursuit of precious gold as we delve into the world of ore processing. Will our efforts yield a substantial gold haul? Find out by watching this exciting video to its captivating conclusion.
Keywords: gold ore, Nevada, crushing, MBMM, jaw crusher, hammer mill, shaker table, gold recovery, high-grade, mining adventure, ore processing, gold extraction, prospecting, refining, gold mining equipment, precious metal, valuable concentrates
Hashtags: #goldore #Nevada #crushing #MBMM #jawcrusher #hammermill #shakertable #goldrecovery #highgrade #miningadventure #oreprocessing #goldextraction #prospecting #refining #goldminingequipment #preciousmetal #valuableconcentrates
For more info please email or call:
Email: info@MBMMLLC.com
Phone: 360-595-4445
Website: http://www.mbmmllc.com/
Patreon: http://www.patreon.com/MBMMLLC
Facebook: https://www.facebook.com/MBMMLLC
Instagram: https://www.instagram.com/mbmmllc/
Twitter: https://twitter.com/MBMMLLC