The Good Life Radio • 24/7 Live Radio | Best Relax House, Chillout, Study, Running, Gym, Happy Music
The Good Life Radio • 24/7 Live Radio | Best Relax House, Chillout, Study, Running, Gym, Happy Music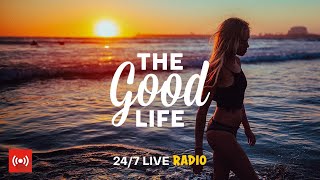 The Good Life is live streaming the best of Relaxing & Chill House Music, Deep House, Tropical House, EDM, Dance & Pop as well as Music for Sleep, Focus, Study, Workout, Gym, Running etc. in a 24/7 summer feel good chillout mix.
🟢 Listen to the Playlist on Spotify:

🔴 Listen to the Playlist on YouTube:

📸 Connect with me on Instagram: http://instagram.com/sensualmusique
➖Official Spotify Playlists➖
🌴 The Good Life Radio: https://open.spotify.com/playlist/75XrS5HXOmVYMgdXlaQTwO?si=E73RRiYiT3eqZFzlaqHKMg
💯 Sensual Musique Top 100: https://open.spotify.com/playlist/1h9yS4rsQJTg3NxII7IHAH?si=tagOmRnOTjGcwofQeb1Jqg
🌞 Summer Mix 2020: https://open.spotify.com/playlist/7cWNW1fBpQRcJNpCP0eqpX?si=tll13wD7QtOCXyP36F5Q-g
🛏️ Chill Songs 2020: https://open.spotify.com/playlist/2iosL790KiO6YMVFC8eT5q?si=u-70eIqGQjK-fUhLN6oyLA
➖Official YouTube Playlists➖
🔊 Sensual Musique Latest / All Uploads:

🌴 The Good Life Radio Playlist:

🌊 Chillout Music 2020:

🏝️ Tropical House 2020:

❤️ Songs About Love 2020:

➖Video Background➖
📷 Video Footage by Nature Relaxation:
Website: https://goo.gl/iHAh3n
YouTube: https://goo.gl/FyKqCz
Subscription/Apps: https://watch.naturerelaxation.com
➖NIGHTBOT➖
Nightbot is here to answer some of your questions, tell you inspirational quotes or just say hi and goodbye.
🤖Commands:
!whoisthis: More info about Nightbot
!coldbeer: Let's have a cold one
!freehugs: Get a free hug
!key: Some major keys and advices
!quoteday: Quote of the day
!quotetravel: Quote about travlling
!qoutelove: Quote about love
!weatherlookup city: Will display the current weather in your city (e.g. !weatherlookup Berlin will display weather information about Berlin)
!song: Displays the current song title and artist
!video: Displays more information about the background video
➖FAQ➖
Q: When will the stream end?
A: Hopefully never. It is supposed to be a 24/7 live stream but every now and then there might be technical issues.
Q: How many songs do you have in your playlist and where can I find them?
A: There are +/- 400 songs. You can find them in my playlists. See the links above.
Q: Why do you not play songs from popular artists like KYGO, Martin Garrix or Calvin Harris?
A: Because I do not have the permission to play these songs. I can only play songs with permission to avoid copyright issues.
Q: Where was the video footage filmed?
A: Fiji Islands and Hawaii.
Q: What's your name?
A: My name is Armin. Nice to meet you 🙂
Q: Where are you from?
A: I am from a small town close to Munich in Germany.
Q: What's The Good Life?
A: The Good Life is a 24/7 music live stream presented by Sensual Musique which plays songs from genres such as Deep House, Tropical House, EDM, Chill House, Dance Music and Pop. The music is fun while studying, cleaning, cooking, working out, relaxing, sleeping etc. 🙂
➖Translations➖
Musique d'Été 2020 | Chansons Relaxantes, Running, Courir, Workout
Sommer Playlist 2020 | Musik zum Chillen, Fitness, Gym, Laufen
Música de Verano 2020 | Canciones Relajantes, Gimnasio, La Carrera
Música de Verão 2020 | Músicas Relaxantes
летняя музыка 2020 | расслабляющие песни, Гимнастический
夏日音乐 2020 | 轻松的歌曲
여름 음악 2020 | 편안한 노래
Letnia Muzyka 2020 | Relaks Muzyka
เพลง​ฤดูร้อน​ 2020 | เพลง​ชิวๆ
サマーミュージック 2020 | リラックスした歌
#thegoodlife #deephouse #tropicalhouse #chill #chillmusic #lounge #live #radio #house #relax #chillhouse #housemusic #relax #running #gym