The Lost Town of the Uncle Sam Mine – Has Nobody Been Here in a Century?
The Lost Town of the Uncle Sam Mine – Has Nobody Been Here in a Century?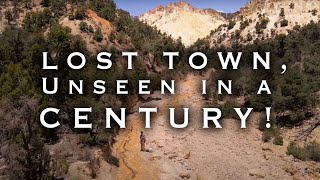 If you enjoyed this video, please consider joining my Patreon to help create more videos like this! https://www.patreon.com/PartTimeExplorer
To give a one-time tip, please visit: https://www.historicalfx.com/support
http://westernplaces.net/store/index.php?route=product/product&keyword=palmetto&category_id=33&product_id=96
Check out my ghost town and ruins playlist here: https://www.youtube.com/playlist?list=PL6oQlj2XK-zE-lQvIjPIM26zz5L9uPrFG
The Mizpah Video I mentioned being willing to make is now published here: https://www.youtube.com/watch?v=X9S9BequQRw
So very little is known about this town deep in this remote canyon. We aren't actually even certain of the name! My friend, Alan, spotted marks for four vacant buildings on a 1957 map and what they were was completely unknown. For his new book, we had to hike in and find out just what was there!
Does this town date back to 1875, when the very first claim was worked in this canyon? Or is it later working from the 1920's? In the summer heat just beyond Death Valley, CA, we had to hike down and find out.
Between Alum Creek and Uncle Sam Creek in Nevada, just south of Goldfield, we found several collapsed structures and even an old automobile.
NOTE: There's a drone shot of a desert valley when I'm talking about Death Valley Park. Flying a drone in Death Valley Park is not at all permitted and comes with a hefty fine. I want to make it clear that this shot was actually the nearby Lida Valley in Nevada.
Chapters:
0:00 – Introduction
1:36 – Searching for the Canyon and Ruins Along the Way
5:10 – Scouting out the Canyon
8:38 – The Historic Mizpah Hotel in Tonopah, NV
9:04 – Returning to the Canyon
10:29 – Descent
12:46 – The Townsite
17:12 – Ascent
20:28 – Conclusion