The Lost Treasure – official TRAILER – Vision Films
The Lost Treasure – official TRAILER – Vision Films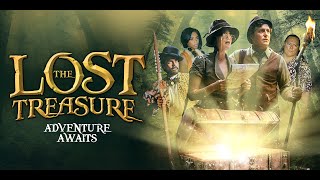 Available on streaming & in DVD!
Watch online now:
Amazon Prime: https://amzn.to/3FnMiyt
Vudu: https://bit.ly/3fcq3RA
Google Play: https://bit.ly/33q6geO
YouTube: https://bit.ly/3qkUPOJ
Hoopla: https://bit.ly/3zMHf9I
Vimeo: https://bit.ly/3r8fRiG
Buy DVD here:
Amazon: https://amzn.to/3qgJ7V6
Walmart: https://bit.ly/3K4w3tO
Movie Zyng: https://bit.ly/3FksEDw
Also available on all the below cable providers:
US CABLE PROVIDERS:
Dish
DirecTV
Comcast
Spectrum
Charter
Cox
Verizon Fios
Frontier
Suddenlink
Mediacom
Century Link
Google Fiber
+many smaller affiliates
***************
Starring Josh Margulies, Dezmond Gilla
Written & Directed by Stella Tinucci
A treasure hunter discovers an old journal that, along with a compass he inherited as a boy, leads to an ancient Hawaiian secret that's been lost for generations. This powerful staff is known to contain a mystical force that could destroy the island. But his greedy rival is determined to secure the staff's powers for himself, leading to a cat-and-mouse game through the wild Hawaiian rainforest.
Learn more on https://losttreasure.mascaradepictures.com
#familyfun #adventure #treasurehunt #hawaii