The UnXplained: American Mobster's Secret NYC Treasure Stash (Season 4)
The UnXplained: American Mobster's Secret NYC Treasure Stash (Season 4)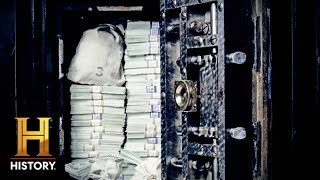 20th-century gangster, Dutch Schultz, buried millions of dollars in a secret location in New York. Find out more in this clip from Season 4, "America's Lost Treasures."
#TheUnXplained
Watch all new episodes of The UnXplained, streaming now, on The HISTORY Channel website at http://history.com/schedule.
Subscribe for more from The UnXplained and other great The HISTORY Channel shows:
http://histv.co/SubscribeHistoryYT
Watch more The UnXplained on YouTube in this playlist:
https://histv.co/UnXplainedYT
Find out more about the show and watch full episodes on our site:
https://histv.co/unxplained
Check out exclusive The HISTORY Channel content:
History Newsletter – https://histv.co/newsletter
Website – https://histv.co/History
Facebook – https://histv.co/Facebook
Twitter – https://histv.co/Twitter
From the producers of Ancient Aliens and The Curse of Oak Island comes The UnXplained, a one-hour, non-fiction series that explores the world's most fascinating, strange and inexplicable mysteries. Hosted and executive produced by Golden Globe and Emmy Award-winning actor William Shatner (Star Trek, Boston Legal) each episode will feature compelling contributions from scientists, historians, witnesses and experiencers-each seeking to shed light on how the seemingly impossible actually can happen.
The HISTORY® Channel, a division of A+E Networks, is the premier destination for historical storytelling. From best-in-class documentary events, to a signature slate of industry leading nonfiction series and premium fact-based scripted programming, The HISTORY® Channel serves as the most trustworthy source of informational entertainment in media. The HISTORY® channel has been named the #1 U.S. TV network in buzz for seven consecutive years by YouGov BrandIndex, and a top favorite TV network by Beta Research Corporation. For a deeper dive, visit history.com or follow @history on Instagram, Twitter, Facebook, YouTube and TikTok. For additional press materials visit the A+E Networks Press Center at http://press.aenetworks.com.