The Wichita Mountain Gold Rush (Actual Locations Today)
The Wichita Mountain Gold Rush (Actual Locations Today)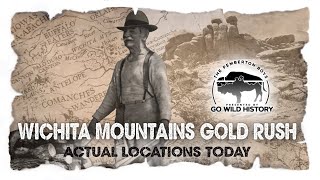 This is a video that covers the old mining days of the Wichita Mountains, from 400 years ago to current day. We discuss the history of mining, the boom of the 1900's, and the death of mining just a few years later. We also visit several actual old mining locations by drone and several actual locations on the ground. Most stories were taken out of Steve Wilson's Oklahoma Treasures and Treasure Tales.
Devil's Canyon History Video: https://youtu.be/AuEP9JOeTDs
Steve Wilson's Book: https://www.amazon.com/Oklahoma-Treasures-Treasure-Tales-Wilson/dp/0806121742
Historic mining locations that can be visited:
Gold Bell Mine – 34.79051, -98.97009
Copper Eagle Camp / Bonanza Mine – 34.71862, -98.72061
Ison's Mining Area – 34.70252, -98.74613
Hardin Copper Mines – 34.75780, -98.57030
Golden Pass Ghost Town – 34.70807, -98.59854
Camp Homestead / Pearson Mine – 34.69670, -98.56500
Please leave any relics that you find. As the years go on, there is less and less remaining of this history. Please consider subscribing to this channel. Over 95% of our viewers aren't subscribed. Thank you for viewing our video!