TONS OF SILVER Found Metal Detecting an Old Lake | Coins & Treasure Revealed by Texas Summer Drought
TONS OF SILVER Found Metal Detecting an Old Lake | Coins & Treasure Revealed by Texas Summer Drought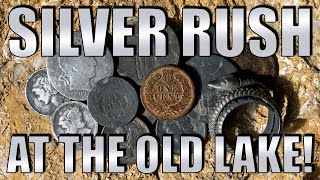 Okay diggers… It was an absolute scorcher this past Summer, but one good thing that came from the seemingly endless days of oppressive heat & zero rainfall was the lowering of the water levels at most of the lakes that surround us… Which gave us an opportunity to access numerous areas that we hadn't been able to in the past. But once we got out to these spots, it was a complete shock to see what was still hiding in the dirt along the newly exposed shoreline caused by the relentless Texas heat.
For NTMD hats & shirts, visit our web-store:
https://northtexasmetaldetecting.fws.store
Thanks for watching! GL&HH!!!