Tour of the Arctic (2/2) – from Greenland to Alaska | DW Documentary
Tour of the Arctic (2/2) – from Greenland to Alaska | DW Documentary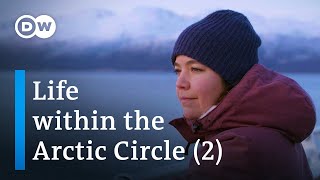 Two film crews explore the spectacular wilderness of the Arctic. The people who live there face dramatic changes. Part two takes viewers from East Greenland to Alaska.
The region around the North Pole is one of the greatest and least-known wildernesses in the world – and it's rapidly changing due to global warming. 350 people, most of them Inuit, live in Ittoqqortoormiit in Greenland. The nearest settlement is on neighboring Iceland. Almost 800 kilometers of Arctic Ocean separate the two islands. The film team accompanies an Inuit family through Scoresby Sound, a fjord system on the eastern coast of Greenland. They travel hundreds of kilometers in small boats through pack ice, passing icebergs as high as skyscrapers. On the way they meet whalers who are hunting for narwhals in summer. In this Inuit culture, narwhal skin and polar bear goulash have ensured survival for thousands of years. Greenpeace and WWF activists want to stop whaling and polar bear hunting – but this poses a threat to the indigenous way of life on Greenland. On the expedition through the world's largest fjord system, the team learns about the consequences of global warming: melting permafrost and a rapid increase in greenhouse gases. The changes are worrying. Some say they have brought benefits to the far north — the ice breaks up earlier and so too does the hunting season. However, the risks outweigh this benefit. The knowledge and way of life that have been passed down from generation to generation may soon be unsustainable.
——————————————————————-
DW Documentary gives you knowledge beyond the headlines. Watch top documentaries from German broadcasters and international production companies. Meet intriguing people, travel to distant lands, get a look behind the complexities of daily life and build a deeper understanding of current affairs and global events. Subscribe and explore the world around you with DW Documentary.
Subscribe to:
DW Documentary: https://www.youtube.com/channel/UCW39zufHfsuGgpLviKh297Q?sub_confirmation=1#
DW Documental (Spanish): https://www.youtube.com/dwdocumental
DW Documentary وثائقية دي دبليو: (Arabic): https://www.youtube.com/dwdocarabia
For more visit:
http://www.dw.com/en/tv/docfilm/s-3610
Instagram:
https://www.instagram.com/dwdocumentary/
Facebook:
https://www.facebook.com/dw.stories
We kindly ask viewers to read and stick to the DW netiquette policy on our channel: https://p.dw.com/p/MF1G