Treasure Hidden in the Bamboo Forest: Maui, Hawaii!
Treasure Hidden in the Bamboo Forest: Maui, Hawaii!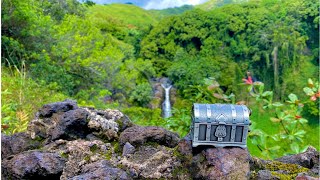 We found a great place to hide this treasure! We loved this beautiful hike with so many waterfalls to enjoy. We hope you enjoy the scenery of the trails in Haleakala National Park. Can't wait to go back when things open up again! Watch to the end to see where you can find the treasure.
If you find our treasure, replace what is inside the box with another treasure and place the box back in it's hiding place for others to find it. Then send us pictures or a video of you finding it and email us at tripndive5@gmail.com to be featured in one of our videos.
For more videos and treasure maps of treasures we have hidden at sea: https://www.youtube.com/watch?v=eu6J3…
For videos and treasure maps to treasures we have hidden on land:
https://www.youtube.com/watch?v=YQhSH…
If you like our videos and would like to see more, please like and subscribe to our channel. We will keep hiding treasures wherever we go. https://www.youtube.com/channel/UCQgp…
Follow us on Facebook or Instagram: @TripNdive
Email us your videos to be featured on our channel: tripndive5@gmail.com
If you are in Arizona and have Plumbing or Restoration needs, contact our friends at Smith Plumbing or Service Masters:
We just bought this awesome metal detector to help us find treasures as we dive! Get one for yourself here: http://shrsl.com/1crzr-1ueu-s8em
Here is the Spivo we use (super durable waterproof 360 selfie stick) http://spivo.com/tripndive
Use this code to get 15% off: tripndive
About TripNdive:
We are a family of scuba divers and wanted to add a little fun to our scuba adventures. We hide treasures underwater (and on land). We hope you will play along and replace what you find inside the treasure box so we can keep the treasure hunt going for as many people as possible. It's been a blast hiding treasures and getting pictures and videos from people who have found our treasures. Who doesn't like a treasure hunt?