Treasure hunter thinks Honeymoon Island may be hiding privateer's 200-year-old haul
Treasure hunter thinks Honeymoon Island may be hiding privateer's 200-year-old haul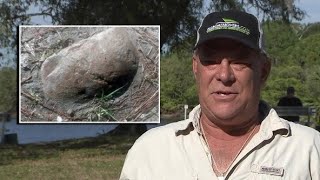 A retired air conditioning contractor says unusual stones with strange markings could lead him to a rich treasure.
Joe Zsika says he thinks Louis-Michel Aury, a French privateer, left buried treasure in Honeymoon Island 200 years ago.
MORE: https://www.fox13news.com/news/treasure-hunter-thinks-honeymoon-island-may-be-hiding-privateers-200-year-old-haul
FOX 13 Tampa Bay brings you the important videos like breaking news, Tampa Bay weather, and local stories. But also plenty of fun stuff, like 'We Live Here' tips, the best of our archives, and all those 'only-in-Florida' stories.
Subscribe to FOX 13 News: https://www.youtube.com/FOX13TampaBay?sub_confirmation=1
Watch more FOX 13 News video: https://fox13news.com/
Watch FOX 13 News live: https://fox13news.com/live
Download our app: https://fox13news.onelink.me/Sd7G?pid=social&c=youtube&af_web_dp=https%3A%2F%2Fwww.fox13news.com%2Fapps
Get our newsletter: https://www.fox13news.com/email