Treasure Hunting In Abandoned Ghost Town (FULL MOVIE)
Treasure Hunting In Abandoned Ghost Town (FULL MOVIE)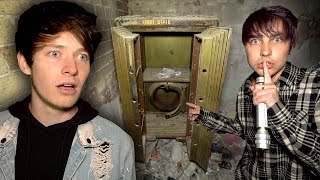 Get our BOOK: https://permutedpress.com/book/paradise-island-a-sam-and-colby-story
Sam and Colby take Kian and Jc exploring for the lost treasure of Little Big Horn in Montana. Afterwards the group explores an abandoned bank and school but it turns out to be really dangerous… there are abandoned places, haunted battlegrounds, treasure hunting, and bears.
SUPPORT KRC RANCH: https://gf.me/u/y33k9v
Make sure to Subscribe: https://www.youtube.com/c/samandcolby/?sub_confirmation=1
Join our Memberships! https://www.youtube.com/c/samandcolby/join
XPLR MERCH: https://shopxplr.com
XPLR APP! Download for free: https://apps.apple.com/us/app/xplr/id1474820819
Android: https://play.google.com/store/apps/details?id=co.tapcart.app.id_lMlmFXdnGD&hl=en_US
Editor: @Hayden Hillier-Smith
Friends in Video:
Kian and Jc: https://www.youtube.com/user/KianAndJc
@KianLawley @JcCaylen
Our other social media!
Instagram: @SamandColby
Twitter: @SamandColby
Snapchat: @samgolbach & @colbybrock
#SamandColby #abandoned #montana
About: Sam and Colby create haunted, exploration videos on this channel. Some series include Stanley Hotel, Witch Forest, the Castle, Return of the Shadow Man, and most recently Cerro Gordo. Subscribe to explore, travel, go treasure hunting, and watch some scary content!
(FOUND SAFE) Treasure Hunting In Abandoned Ghost Town | Sam and Colby

Sam and Colby
https://www.youtube.com/c/samandcolby