Treasure Hunting in New York – Amazing Artefacts from New York's past revealed (July 2022)
Treasure Hunting in New York – Amazing Artefacts from New York's past revealed (July 2022)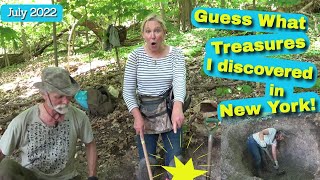 In May of 2022 I was fortunate enough to meet up with New York bottle digging experts Scott Jordan, Belle Costes and Alex. They have been exploring New York City's history for decades, searching in landfills, construction sites, shorelines, creek, marsh beds, privy vaults and cisterns. They are also artists and historians, creating art and jewelry from what they find. I was able to discover their wonderful collection of treasures and artwork and Im delighted to be able to share that with you here.
Belle and Scott sell their bottles and jewelry at the Grand Bazaar NYC flea market on Sundays.
77th Street and Columbus Avenue in New York City.
You can find out more here at Scott and Belle's website
http://www.thingsfoundnyc.com/
They are also on instagram @greybeardboy and @girlfindstreasure
I had a wonderful time with them and cant wait to go back for another visit.
Thank you for watching. You can follow me on twitter and instagram @tidelineart
See you soon.
Nicola
Nicola White
www.tidelineart.com