Treasure's Island | Whisker Haven Tales with the Palace Pets | Disney Junior
Treasure's Island | Whisker Haven Tales with the Palace Pets | Disney Junior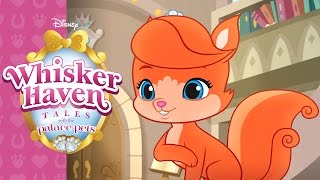 When the Palace Pets have a pool party, Treasure is determined to get a scared Petit to join the fun!
Subscribe for new episodes of Whisker Haven Tales from Disney Junior! https://www.youtube.com/channel/UCNcdbMyA59zE-Vk668bKWOg
Watch all the episodes of the Whisker Haven Tales! https://www.youtube.com/playlist?list=PL2m1vjiMH_hNYF4U-PIk6-YAEbi88WSLg
Watch episodes of Minnie's BowToons! https://www.youtube.com/playlist?list=PL2m1vjiMH_hNYvAAHdLsuB0y7OIva3VSI
http://www.disneyjunior.com
Like Disney Junior on Facebook: http://www.facebook.com/disneyjunior
Follow @DisneyJunior on Twitter: http://twitter.com/disneyjunior
Disney Junior brings you an all new animated series of shorts: Whisker Haven Tales with the Palace Pets! The Palace Pets venture into the fairytale kingdom of Whisker Haven where they discover the beauty of kindness, the glamor of serving others and the royal heart of friendship as they fulfill their duties as royal pets.
Disney Junior reflects the emotional connection generations of consumers have to Disney storytelling and Disney characters, both classic and contemporary. It invites mom and dad to join their child in the Disney experience of magical, musical and heartfelt stories and characters, while incorporating specific learning and development themes designed for preschool kids age 2-7. Disney Junior's series blend Disney's unparalleled storytelling and characters kids love deeply with learning, including early math, language skills, healthy eating and lifestyles, and social skills.