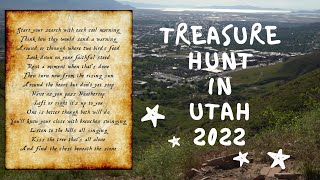 I am not giving you any direct clues in this video. However, you might see something I did not. I feel this location (if you watch the video and know the Wasatch Front, you will know where we are) is an excellent place to look. I think most of the clues add up. A new hint is dropping today, and I hope I get a chance to get out again soon to keep up the hunt. Good luck, Treasure Hunters.
Gear
Sony 24 mm aperture 1.8
Sony Alpha a7 III Digital
Rode VideoMicro Compact On-Camera Microphone with Rycote Lyre Shock Mount
RODE Wireless GO Compact Wireless Microphone System (2.4 GHz) White
Canon EOS R
GoPro Hero 7 Black Action Camera
Check out @Pictureline for great deals!