Van Lith Ranch – Payette, Idaho – Origin Story
Van Lith Ranch – Payette, Idaho – Origin Story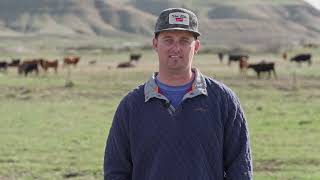 Idaho Preferred Origin Story:
Van Lith Ranch is a third-generation ranch family behind their pasture to table cattle operation based on the banks of the Payette River in Idaho. Andy, Joe, and Brigette are the main drivers of the business, and bring a fresh perspective on providing dinner tables with locally raised quality beef, all the while carrying on Van Lith legacy and love of ranching in the Idaho agriculture community.
The backstory: Although ranching has been their family's mainstay for over 70 years, the Van Liths felt the pandemic offered a silver lining of sorts. With the success and wisdom of three generations behind them to bolster their courage, they pivoted, and began selling their top grade beef directly to consumers. It's been a winning solution that fostered their resilience as a company and as a family, but most importantly, it allowed them to serve and connect with their local community. We're sure glad they did!
And now, let's talk about their top grade beef – The Van Liths pride themselves on their ranching practices. Their cows are raised on open ranges throughout Idaho (mostly in the Treasure Valley), are grass-fed, grain-finished for gorgeous marbling, and are USDA graded to ensure Prime and/or Choice cuts. Don't know the difference? The Van Liths are HAPPY to educate! They process the beef in small batches at a USDA Certified facility in Meridian, ID.
If you had the chance to meet Andy, Joe, or Bridget you instantly feel apart of the Van Lith Ranch family. You can purchase their local beef in cuts, ranch pack bundle boxes, and shares directly through the website. Opt in for local delivery and have the Van Lith "Beef Wagon" drop off at your door. What's better? You can swing into their storefront location in Fruitland, ID, and handpick your cuts to grill up or find them at one of the local farmers markets.
Follow their Instagram account to see their weekly market schedule and watch everything from savory recipes, educational content, and discount offers, to a 'behind the scenes" peek of life on the ranch.
Videographer: Guy Hand Productions
Idaho Preferred: https://idahopreferred.com/members/van-lith-ranch/
Van Lith: https://www.vanlithranch.com/
#idaho #idaholife #idahoranch #vanlithranch #idahopreferred