What's Buried Beneath Hawaii's Busiest Cliff? (Underwater Metal Detecting)
What's Buried Beneath Hawaii's Busiest Cliff? (Underwater Metal Detecting)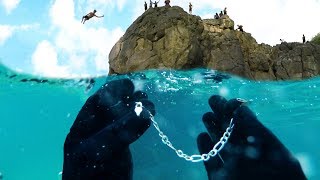 What's Buried Beneath Hawaii's Busiest Cliff? (Underwater Metal Detecting) While scuba diving in the ocean of Hawaii, with my underwater metal detector, I found some amazing treasure! I found real jewelry, including a sterling silver chain bracelet, another bracelet, money (coins) and other random stuff! We got an amazing view of some sea creatures, a sea turtle, fish, and we even ate some fresh sea urchins!
***Buy the Underwater Metal Detector I used HERE*** http://shrsl.com/1w3ad
Subscribe and help me reach my goal of 4 Million Subscribers! https://www.bit.ly/manplusriver
Subscribe to Cameron's channel! https://www.youtube.com/diveportablelungs
***BUY A LIMITED-EDITION MAN + RIVER T-SHIRT HERE:***
https://www.manplusriver.com
Follow Man + River:
Facebook: https://www.facebook.com/manplusriver
Instagram: https://www.instagram.com/manplusriver
Twitter: https://www.twitter.com/manplusriver1
Watch More Man + River:
Latest Uploads: https://www.youtube.com/watch?v=YCo892UZJUA&list=PLghbbSSODojf77XFtfJl1YygH_tpFuz0w
Popular Videos: https://www.youtube.com/watch?v=qs9uqGPco8w&list=PLghbbSSODojfi6YzQfh6yiapiJkTvqJsc
Found iPhone After Submerged 1 Year – Will it work? https://youtu.be/vKdPl6QSKEA
Underwater Metal Detecting a WATERFALL – I Found an iPhone, Rings, Pocket Knife (Phone Returned!!!) https://youtu.be/fN7zAr-wKmU
River Treasure: I Found a Working iPhone 7 PLUS, GoPro, Keys, Money (iPhone Returned to Owner!!!) https://youtu.be/3OLMTIs8EmQ
Email: manplusriver@gmail.com
Want to send me something?
Dallas Rowley
P.O. Box 312105
New Braunfels, TX 78131
About Man + River:
Hey my name is Dallas! I'm a Free diver, Scuba Diver and Treasure hunter. Welcome to my channel Man + River, where I take you along on my lost river and lake treasure hunting adventures! Hit the subscribe button to join me on my next dive!
#unsunk, #manplusriver, #rivertreasure