Why I will NEVER VISIT Crater Lake Oregon
Why I will NEVER VISIT Crater Lake Oregon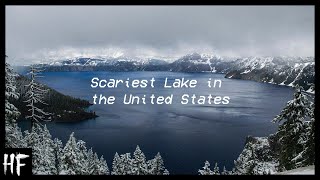 Discovered in 1853 by John Wesley Hillman, Crater Lake in the south central region of Oregon is shrouded in mystery and strange occurrences. One of the biggest mysteries surrounding Crater Lake is The Old Man, a 35 foot tree trunk that floats vertically and travels about 2-5 miles in a single day. The trunk also appears to have supernatural powers that can control the weather in the area if the Old Man is disturbed. On top of a mysterious log that can change the forecast, many people go missing and some even do the unthinkable.
Find out why I will never visit Crater Lake Orgeon
Why I will NEVER VISIT Crater Lake Oregon
This video serves for educational purposes.
Follow me:
YouTube.com/HiddenFiles
Twitter.com/HiddenFilesYT
Instagram.com/HiddenFilesYT
Facebook.com/HiddenFilesYT
If you have a scary story, please share with us in the comment section below!
If you have any scary stories to share with me, it can be stalker stories, horror stories, camping horror stories, scary new years eve stories, leave a comment below and maybe ill turn it into a video.
Thanks for watching, make sure to share and subscribe for more scary stories.
Music ♫ :
CO.AG Music – DARK AMBIENT BACKGROUND MUSIC
Hidden Files
Why I will NEVER VISIT Crater Lake Oregon
Previous Video:
MY DREAM SHOWED ME MY FUTURE
https://youtu.be/7RoyKAaAXIA