Why Is There So Much GOLD Nuggets in the Desert!?
Why Is There So Much GOLD Nuggets in the Desert!?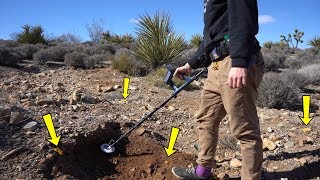 In this video I travel to the Arizona desert to find gold nuggets covered in this place using gold hunting metal detectors! Jeff Williams was kind enough to take my camera man and I out to find gold treasure (nuggets) and I couldn't be more happy with what we found! Please Subscribe to see whats to come next and be sure to support the Pioneer family on the Facebook and Instagram! Thank you and I hope you enjoy!
FOLLOW ME ON FACEBOOK & INSTAGRAM
Facebook: https://www.facebook.com/pioneerpauly/
Instagram: https://www.instagram.com/pioneerpauly/
JEFF WILLIAMS
https://www.youtube.com/user/ghosttownhunter
💲SHOP: https://www.pioneerpauly.com/
💲DONATE: https://www.paypal.com/cgi-bin/webscr?cmd=_donations&business=N2NVF9ZVZQ7MG&item_name=Donate+to+the+channel%21&currency_code=USD&source=url
⛏️EQUIPMENT I USE
Gold Panning Starter Kit: https://shrsl.com/2bazq
Minelab SDC 2300: https://shrsl.com/2bayg
Fisher Gold Bug 2: https://shrsl.com/2bayt
Garret AT-MAX: https://shrsl.com/2baz0
Garret Pro Pinpointer: https://shrsl.com/2baz7
Sucking Gold From a Big Hole! (Dredging)

Highbanking Gold From A Big Hole!

I Found A Snuffer Bottle!! (Lost Gold Inside)

Finding a HUGE Gold Deposit Underwater!! (Record Find)

CHECKOUT THE GOLD These Divers Just Found!!

Finding Lots of Gold Underwater! (Big Flood)

Uncovering FIVE Gold Nuggets in Bedrock!

Checkout the Gold Sitting Under this Crevice!

How Good is Gold Panning Under a Waterfall?

Finding Gold Nuggets Scuba Diving the Sweet Spots!

I Found INCREDIBLE Gold While Mining Underwater!!

Hidden Hold Found While Highbanking For Gold!

I Found a BIG GOLD NUGGET on Bedrock!!

My Record SMASHING Gold Nugget!!

Finding Gold in a Deep Crevice!

Sniping for River Gold & Treasures!

Sniping Gold in High Waters!

Scuba Diving for Gold in the River!

The Gold is in the Bedrock!

GOLD Record Under BIG Rock!

#Gold #Nuggets #PioneerPauly